Stand-up paddle boarding (SUP) and fly fishing are a match made in heaven. With soothing water to relax your soul, fresh air to reinvigorate your zest for life, health benefits of paddle boarding, and the thrill of catching fish using your skill, it's little wonder people are raving about paddle board fly fishing as the perfect way to enjoy the outdoors.
SUP Fishing Setup
Being prepared is a big part of getting the most out of your SUP fishing adventure. So, apart from your board, here are a few other items for you to consider.
Stabilizers
A great idea if you are new to SUPing. You can focus on casting your line and reeling in the next big catch knowing the stabilizers are proving your board with a little extra balance.
Seat
Yes, it's called STAND-UP paddle boarding but you are allowed to sit every once in a while! The softer surface of an iSUP is much more accommodating than a hard SUP would be for sitting on your board. Of course, you can opt for a detachable seat, complete with backrest if that's more to your liking.
Dry Box
You can use them to store your keys, phone, wallet and perhaps some refreshments to tide you over.
Anchor
An anchor helps you keep your distance from the fish you are trying catch, so as not to scare them off. Plus, you can stay in that sweet spot you've come across without drifting away
Board Light
If you go fly fishing in the twilight hours (some anglers swear it's the absolute best time) then a paddle light is a common sense piece of safety equipment.
Best SUP for Fly Fishing
While your level of SUP experience will affect the type of board you choose there are some key features you'll want your SUP fishing board to include. Since you'll be moving around a lot on your board, stability is a big issue and everything about the board that improves stability should factor into your choice.
A flat bottom is also desirable as it adds to the stability and tipping over is not something you'll want to risk as you reel in "the big one". Up top, a full-length deckpad is great so you can walk the length of the board unhindered.
Your SUP will allow you to go where boat or kayak could possibly hope to in search of your catch. That means shallow water is not off limits but the rocks and stones could do severe damage to a hard SUP. An iSUP, on the other hand, is very strong, durable and resistant to damage from bumping into rough surfaces.
SUP Fishing Gear
Apart from your board, to get the most out of your SUP fishing venture, you will need a few other items.
Rod, Lines and Flies – aka "the essentials"
The type of fish and fishing conditions will dictate the type of flies, rods, and lines that you choose. The store where you purchase regular fishing gear or specialist fly fishing stores are good places to seek out some advice.
Rod Holders
They conveniently mount on your board, cooler, seat or dry box and definitely help to keep your line and hooks clear of your board. If fishing is your main use for the board, then it is worthwhile investing in a board with inbuilt rod holders like the Hippocamp Fishing ISUP shown below: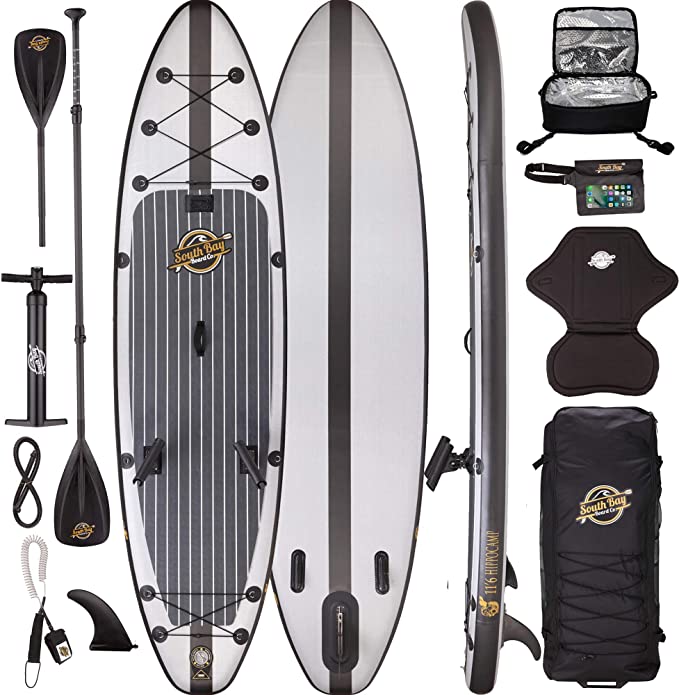 Tackle Rack
Sure, SUPs come with convenient ties and strings to hold stuff in place but when you are fly fishing, it can be quite a bit of stuff. A tackle rack will hold your fishing rods, tackle bag and a few other accessories securely in place. If you've a Bote fishing SUP, this tackle rack will work nicely: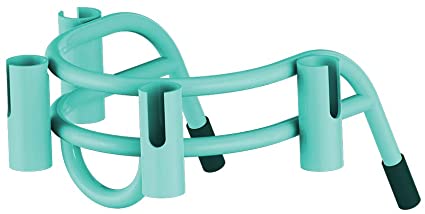 Waterproof Waders
if you plan on switching between wade fishing and SUP fishing, fishing waders like these will definitely keep you both comfortable and dry.

BOTE Inflatable SUP Review
SUP fishing is an increasingly popular sport and you will find quite a few people who as crazy about it. None more so it seems than the folks at BOTE. They make boards of consistently high quality and with obvious forward-thinking design.
BOTES are well suited for straight paddle boarding or for SUP fishing. They routinely include design elements not normally found on other SUPs, such as a removable leaning post – perfect for fly fishing so you can lean back, relax and still keep an eye out for fish from your standing vantage point.
BOTE manufactures a full range of iSUPs. Their Aerobotes line includes the Flow, Breeze, Drift and Zeppelin. The Flow is specifically designed for younger boarders while the Zeppelin is a mighty big BOTE you can take anything along on. The intermediate Breeze and Drift are perhaps the ones most suited to the individual fly fisher.
BOTE iSUPs feature paddle hooks, bag hooks and rod holders, covering quite a fair amount of your fly fishing requirements. These boards are popular among fly fishers because they are built with stability and maneuverability in mind as well as convenience of accessorizing to make fly fishing a pleasurable experience.
Check out our extensive guide for more tips for choosing an inflatable paddle board.
Popular SUP Fishing Spots (US)
While many states have great SUP locations, Florida does seem to have more than its fair share! Here are a few:
Florida Bay (Flamingo)
Located in the wild of the Everglades National Park, Here you can experience world class fly fishing for Snook, Redfish, Tarpon, Permit, Bonefish, and Snapper.
Wekiva River, Orlando
16 miles long with plenty Largemouth Bass colorful Redbreasted Sunfish, Shellcrackers, Sunshine Bass and Stripers.
Banana River's "No Motor Zone"
Located between Merritt Island and Cape Canaveral. It is only accessible by paddle craft and a wonderful SUP fishing spot for Black Drum, large Redfish, Spotted Seatrout, Snook and juvenile Tarpon.
Destin (Choctawhatchee Bay) on the Emerald Coast
There are plenty of Trout and Redfish along the docks, shorelines, flats, oyster bars and river or creek mouths. You will also find the occasional Striper, some Pompano, Black Drum, Flounder and Spanish Mackerel.
St. Joe Bay on the Gulf Coast
Glorious white sand beaches and pristine waters are home to Flounder, Redfish, Pompano, Spotted Seatrout and Cobia plus, you can go scalloping from your SUP in the summer.
This SUP fly fishing video is shot in Siesta Keys, Florida, shows quality sized trout being caught by the angler.
Hope this provides enough inspiration for you to get out there and give iSUP fly fishing a try! We've reviewed many inflatable paddle boards perfect for your next paddle adventure.